It takes time to come up with the perfect domain name. When I got an idea for automating website uptime, ssl, cron jobs and domain monitoring, it took me time. After several iterations, I settled on sitemonki.com. As you would guess, sitemonkey.com was already taken and the owner wanted a lot of money for it. Now it doesn't matter because sitemonki.com has stuck and my users have no issues with it.
Now imagine losing sitemonki.com to domain squatters? Oh the agony. Who ware these guys?
Domain name squatters are speculators on the internet. They register and sometime snatch domain names from their rightful owners in the hopes of reselling it to make a killing. The current owner of sitemonkey.com is doing nothing with it. They are holding on to it on the offchance that people like me will want it so bad to buy it from them at a premium. In fact domain name auction sites (not registrars) where you can buy or sell are big business. When you lose your domain name, it's going on sell on one of these sites.
So if you bought a domain, there are high chances you don't want to lose it. In fact your business must be depending on it. Therefore losing it might spell catastrophy. Imagine I lost sitemonki.com, then all my users won't be able to access their accounts and in fact it'll be a lot of inconvenience for both us to get back to business.
So what measures should you have in place to never lose your domain?
Keep updated domain name whois/contact information
The most important thing is to keep an updated record of your domain name details. When registering a domain name, your registrar will require you to enter four sects of information; Registrant, Administrative, Technical and Billing information.
Registrant: The registrant is the rightful owner of the account and has the right to use and/or sell the domain name. They are able to make changes to all account, domain, and product settings. 
** Make sure registrant information is under your company, not an employee or consultant or any other third party even though you trust them.
Administrative: Registrants often designate an administrative contact to manage their domain name(s). They primarily deal with business information such as the name on record, postal address, and contact information for the official registrant.
** Take note of the administrator email because this is the email that your domain name registrar will use mostly to send you email reminders about expiring domains. If you get everything else wrong, don't make a mistake on this.
Technical: The technical contact manages and maintains a domain's name servers. If you're working with a web designer or someone in a similar role, you many want to assign them as a technical contact.
Billing: The billing contact is the party responsible for paying bills for the account and taking care of renewals.
In most cases, Registrant, Administrative, Technical, Billing information is mostly the same. If you are using a third party to handle your domain such as a hosting company, make sure you are in-touch with them or domain name details are in your names. If the hosting company, website developer goes rogue, they don't have leverage over you.
You want to see your domain name whois information right now using https://who.is before it's too late.
Secure your registrar account
If you registered the domain name yourself (which we highly recommend you should), then you have a registrar account at either name.com, namecheap.com, domain.com etc. Another strategy you want to employ in order not to lose your domain is secure your account. You can either start by enabling Two-Factor Authentication(2AF) which adds security to the login process.
Additional you can enable login notifications if your registrar supports them. Name.com does. Every time you login to your account, you'll get a notification that you have logged in. If it's not you, then you can quickly take action.
Some registrars have additional security features such as limiting logins to your account from specific IP addresses or even country. So take advantage of that if it's offered.
Keep your domain name "Locked"
Make sure your domain is "locked". This prevents accidental transfer of your domain to another user within the same registrar or to another registrar. Luckily this is the default status for all newly registered domains across registrars.
Turn on automatic renewal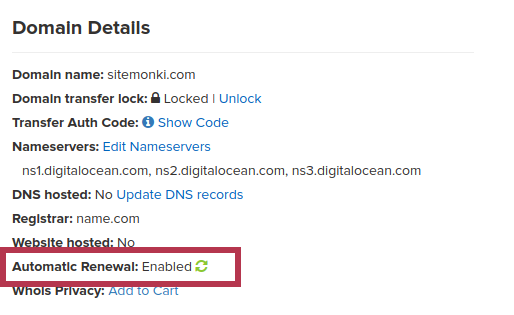 Unless you are planning to intentionally give up your domain name, it's in your best interest to turn on auto renewal. Your registrar will automatically renew your domain name by billing your credit/debit card you added under payment method without your input.
Another hack is to register your domain for long period of time. I suggest 3-5 years or even 10 years instead of the default annual registration. Well, I personally haven't done this for sitemonki.com since we are seed stage, but once we have proved the business model, then by all means we are in this for the long haul.
Use domain name monitoring services
Even with due diligence we have listed above, chances that something might go wrong. For instance even with auto-renew turned on, your card might fail to work. Perhaps you miss the renewing email in junk of your email inbox. Perhaps a third party is handling your domain name details, but you also want to keep tabs.
This is where domain name monitoring services come in. I personally have at least hundreds of domains some are personal or belong to startups I have stake in such as dignited.com while others are client domains. This is why I developed Site Monki in the first place. To keep tabs on all these domain names.
Site Monki on top of website uptime monitoring also offers domain name monitoring and protection. Due to the risks of losing a domain name, we have setup a web app that monitoring changes to your domain name and immediately alerts you. For instance we will send you alerts 14 days, 3 days and on the day when your domain name expires. In fact we shall even send reminders 3 days and 14 days after it has expired because this is still in the grace period. Moreover, we use multiple alert channels such as email, SMS, Slack etc to make sure you don't miss out on that email. So be proactive and sign up today.
Image: Pixabay